Why Do ERP Implementations Take So Long?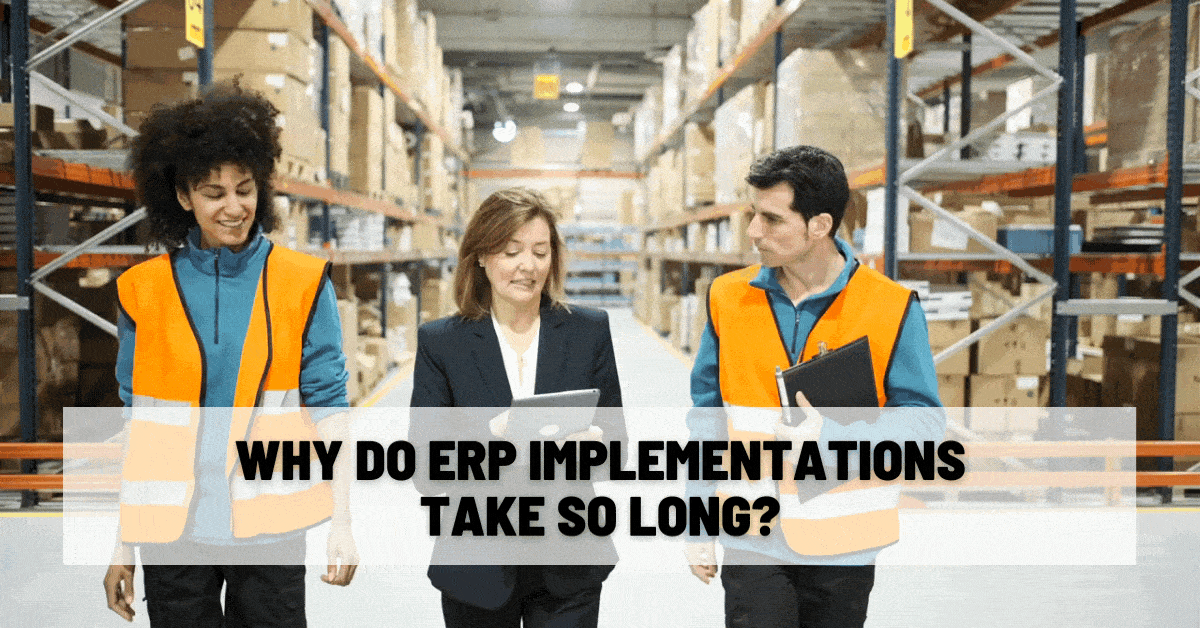 Why Do ERP Implementations Take So Long?
4 Steps to Make Your Implementation Go Faster and Smoother
So, you've heard that an ERP implementation is a long, frustrating, and complex process with a high failure rate.
That's not exactly confidence inspiring. That reputation alone is often enough to sidetrack and ultimately kill the project.
It doesn't have to be that way. Especially for first time ERP system adoptions.
The horror stories you've heard most likely involve systems designed (and priced) for corporations with distributed management, many locations, hundreds of employees and project budgets running into the 100's of thousands, if not millions, of dollars.
Let's say that's not you. You are looking to replace a mashup of disparate systems with an integrated ERP system designed for the SMB (small-to-medium business) market. How can you get it without the disruption and headache of a never-ending project?
We can help.
The steps below outline how an SMB oriented system – like Acctvantage ERP – can be successfully implemented within a reasonable timeframe and budget.
Following these steps, a typical AcctVantage ERP implementation can be completed within 90 days. In case you're not familiar with the benchmarks, that's lightning fast.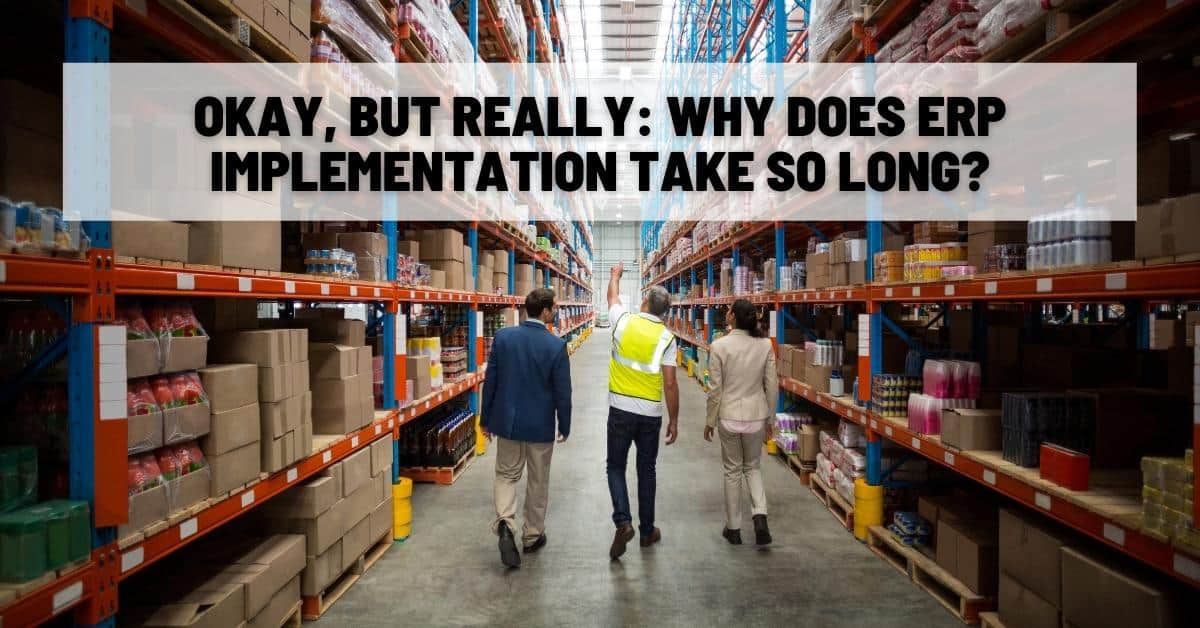 Okay, But Really: Why Does ERP Implementation Take So Long?
Fair question. Here's the short version:
An ERP implementation is a multi-stage problem-solving process that involves continuous communication between your staff and your vendor's implementation team. A process like that just isn't going to be done over a weekend.
Not to mention, if all goes well, every department of your business will be relying on the system you're configuring. You probably don't want the setup of a system like that to blur past you.
For some context about the kind of timeline we're talking about here, we like to break it down into 4 broad steps:
Sales Process:

Your vendor learns your requirements and demonstrates that their software can meet your needs.

Typical timeframe:

2-3 months
Evaluation and Process Review:

Every department of your business has time with your vendor's implementation team to go over their specific processes and needs.

Typical timeframe:

3-4 weeks
Training:

Everyone on your staff who will be interacting with the software has extensive training on that software. They also have the chance to give multiple rounds of revisions to configuration decisions made earlier.

Typical timeframe:

3-4 weeks
Rollout:

On your signal, your vendor's implementation team imports your existing data into the new system and finalizes the transition.

Typical timeframe:

1-2 weeks
As you can see, the process moves from big-picture generalities down to everyday realities. If someone drops the ball at any stage, all the later stages are hamstrung before they begin.
Speed is important in any business operation, but you don't want to rush this.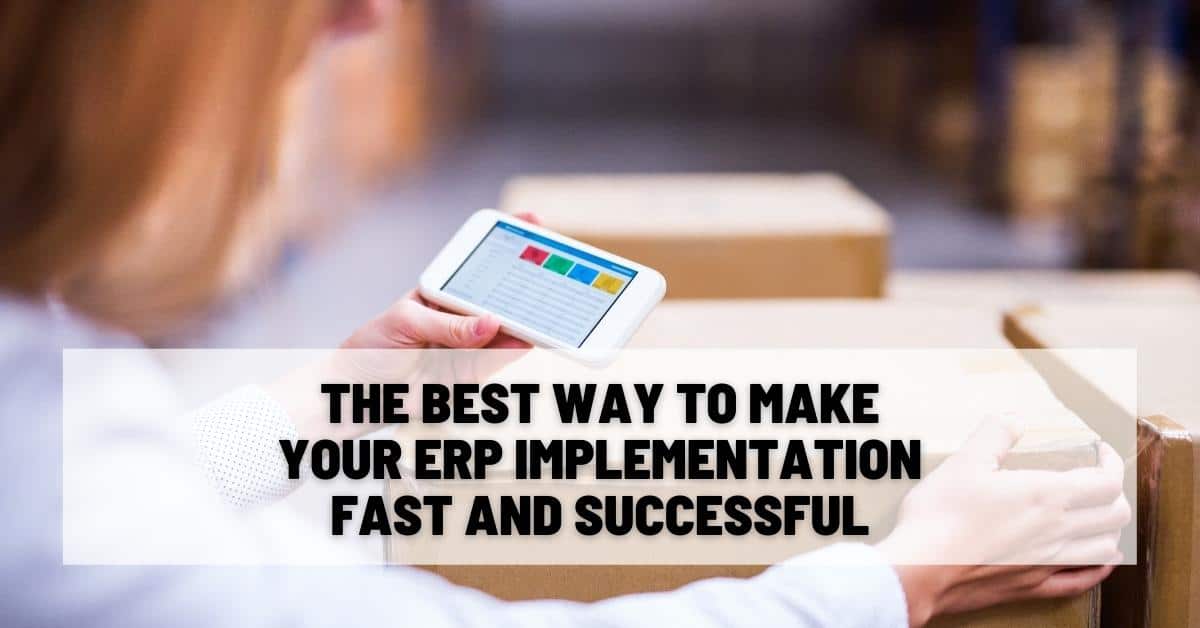 The Best Way to Make Your ERP Implementation Fast and Successful
So, you need an ERP system, but you're understandably apprehensive about setting aside 3 months to do it properly. Any longer than that is off the table. What solutions are available?
How do you make sure that your ERP implementation stays on schedule and gives you the benefits you need?
If you want to make your ERP implementation fast and efficient, the first thing to do is to get all the decision makers in your business on board with the idea. An ERP implementation requires extensive cooperation with all stake-holders, and that's going to slip if the team doesn't think an ERP system is worth the trouble.
After that, the most important thing is communication between you and your vendor, from setting the scope of the project, through the process review, to training.
For more information on the ERP implementation process itself, you can check out our ERP Implementation Guide.
---
To find out how AcctVantage ERP can support your ongoing business growth and success, click here to get in touch with us.