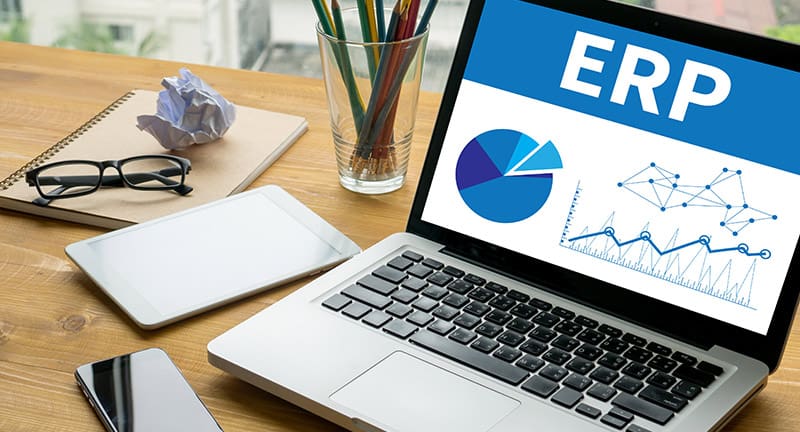 What the heck is an errrrp, and how do I know if I need one?
Enterprise Resource Planning (ERP) software is the term MBA types use when referring to "all-in-one" business management software systems. ERP systems integrate back office, sales, operations, inventory, purchasing, financials and more in a single system. It saves a bunch of time. And if you run an inventory-centric business that is growing, chances are you need one.
The right ERP system can help small to medium size distribution, manufacturing, and boutique retail companies who have outgrown small-scale accounting platforms like QuickBooks® or AccountEdge®, better manage and track their growing data. Being more organized in this way gives you the critical data you need–at your fingertips–to make better decisions (and more money). It's a simple equation, really: better data equals fewer mistakes equals more profit.
But not all ERP systems are a match for all businesses. For middle-market companies looking for a competitive advantage, you don't need the complication, expense, or overhead of up-market ERP solutions to get all the same advantages your larger competitors probably already have.
AcctVantage ERP is a multi-user, true double-entry accounting and business management system with integrated modules for sales, CRM, purchasing, inventory, accounting, reporting, and job costing. Its straightforward cross-referencing system makes it easy to use and maintain unlimited years of data with total transparency, allowing unprecedented access and control of your data.
We save you money by stopping the bleeding when your sales team doesn't know what's in stock and your purchasers are buying stuff you already have.
A typical AcctVantage ERP client comes to us with their books in an entry level system, inventory in spreadsheets, and who-knows-what the sales team might be using. AcctVantage ERP consolidates those inefficient systems into a single, enterprise-wide application.
Some other things to consider when shopping for an ERP system:
✔ Is the ERP system delivered on-premises?
✔ How long is the implementation process?
✔ Does it run on both Mac and PC?
✔ Will it grow with my business?
✔ Is it cost effective?
AcctVantage ERP is a multi-user business system that checks all the boxes.
Our software is delivered on-premises and we will have you up and running in 90 days or less. We are a cross-platform application with a look and feel that translates beautifully across both Macintosh and Windows platforms. AcctVantage ERP is flexible, scalable, and configurable—ready to grow with your business.
Better yet, we are happy to be able to say that AcctVantage ERP provides the least-expensive deployment in the ERP industry. This is something that has been a key driver for us since the beginning. You will be delighted to find that our level of service is exceedingly high: we are here to make you successful and we know it. We are not here just to make a buck.
(In fact, even we were surprised to learn that for second time ERP buyers, price is SEVENTH on the list of priorities! Seventh! But for first time buyers, it's FIRST. What this tells us is that while cost is always an important consideration, assurance of success and long term support is a far more important focus for people who have been down this road before. And those are things we do very well.)
We've been doing this for quite a long time and have seen it all when it comes to what a growing small business needs in software. What we've learned is that software matters, yes, but the real win is helping your team understand the "how" and "why" [added quotes] of implementing new systems. That's what we are really good at: Making things work for your people the way *they* work, so they "get it" and can support your processes and growth with maximum effectiveness (and minimum grumbling).
Our approach is highly consultative, not pushy or polished. When you call, you'll speak with an experienced implementer that will actually give meaningful answers and begin to understand your unique challenges. You won't be inundated with scripted calls, auto-generated emails or junior sales reps. Just real info from real people who know what they are doing. We promise.