Why New Matter's MOD-t 3D Printer is big for #ERP

This morning, a new company called New Matter launched its crowdfunding campaign on IndieGOGO, with a little "push" from big names like TED's Chris Anderson, IDEO and a host of others. Take a look:
For many, the news of a $250 retail object printer is a shocker. We're used to seeing early adopters flock to inefficient, only slightly functional technology that retails for 5-10 times the technology it seeks to disrupt. Then again, why not? These guys are smart: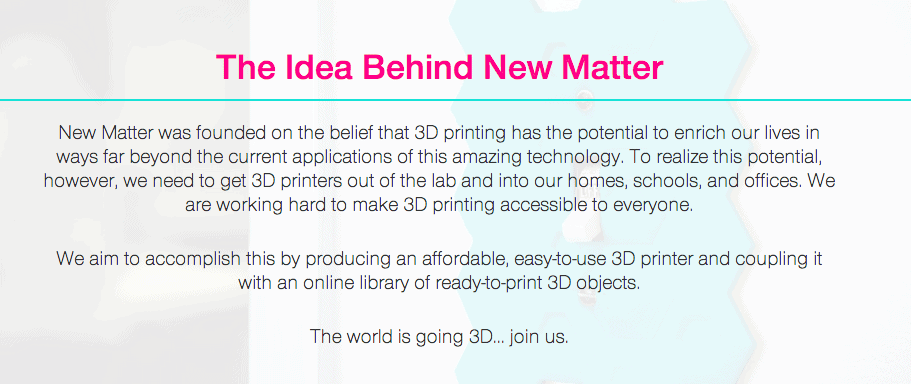 By offering a $250 consumer product (which conveniently has instant application in design firms, schools, architects' offices and other ready settings), New Matter sets a stage for speed, affordability and adaptability in 3D printing.
Here's the specs on the first machine:
Process: Fused Filament Fabrication
Material: Non-proprietary PLA filament, 1.75mm diameter
Build Volume: 150 x 100 x 125mm (6 x 4 x 5in)
Layer Resolution: Software selectable 0.2, 0.3, and 0.4 mm
Nozzle Diameter: 0.4 mm
So what's the ERP connection? Okay, yes, we are getting a little ahead of ourselves. The printers are very limited in functionality and they presently only bind using one source material. We won't be zapping in hamburgers or hinges in the short term. But the speed of production and the price tag send all the signals we need to start imagining printing… your own replacements when components fail… your own parts without having to order them from 3rd parties… scale models for custom orders prior to complete fabrication.
Or, and this is where it gets really interesting, imagine a business that provides its customers with a preprogrammed 3D printer to produce needed parts, components or replacement items? Stay tuned to 3D printing. You might just save or make a fortune.
PS – WANT ONE? This is not an endorsement, but get your cool on by pre-ordering one at a $100 discount at IndieGoGo: https://bit.ly/av11v