"Necessary But Not Sufficient" by Eliyahu Goldratt

Welcome to our new series of posts, where we review some top titles and news on Enterprise Resource Planning and share a few thoughts.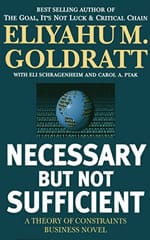 Necessary But Not Sufficient
By: Eli Goldratt
Paperback: 231 pages
Publisher: North River Pr (October 2000)
Language: English
This book follows a company's (BGSoft) 1.5 year journey through the promises and perils of ERP (enterprise resource planning) by establishing a narrative through the company's implementation partner: KPI Solutions. As in the other books, Goldratt makes his points through the format of a novel – the reader learns what Goldratt is trying to teach through the discussions and experiences of the characters. The company president and sales director are confronted with the approaching market saturation in their target industry (very large corporations), a saturation which will in turn prohibit future 40%/year growth, and eventually kill the company's stock prices.
The company is a fictionalized key player in the ERP market and its customers are primarily Fortune 1000 companies who can afford the investments and fuel the growth that BGSoft is aiming at. The company's technical guru and the head of their implementation arm are struggling with the ever-increasing complexity of the software, which is dramatically slowing the response to customer-reported bugs, and customer-requested enhancements. Even as they are dealing with these issues, the management team is asked by Craig, CEO of Pierco one of BGSoft's largest customers, to demonstrate the bottom-line value of the ERP software by his board of directors.
The story now takes an interesting turn, turning away from the routine issues of features, schedules, resources, accounting and project management that are characteristic of any ERP company. They conclude that to realize bottom-line value, the technology in the software is necessary, but not sufficient.
At this point, they discover the Theory of Constraints methodology, and begin expanding their ERP system to use TOC production, project management, distribution, and engineering modules.
ERP implementations are often seen as simply managing and automating data flow across different functions in an organization for peak efficiency. But this viewpoint means the rules of the game continue to remain unchanged, defeating the purpose of better information flow.
Summary Value:

If you are new to ERP, which many of our customers are, this book is a playground for examining the common vocabulary of EPR within a contextual setting. Key points:
 – Focus on results for the business, and keep the software simple.
 – Resist the tendency of adding feature after feature to complicate ERP.
 – Extend ERP across the whole supply chain as one customer-centric entity.
 – The top line and bottom line will then increase.
Image credits:
Amalgamated Pixels, Inc.
Other books by Goldratt: