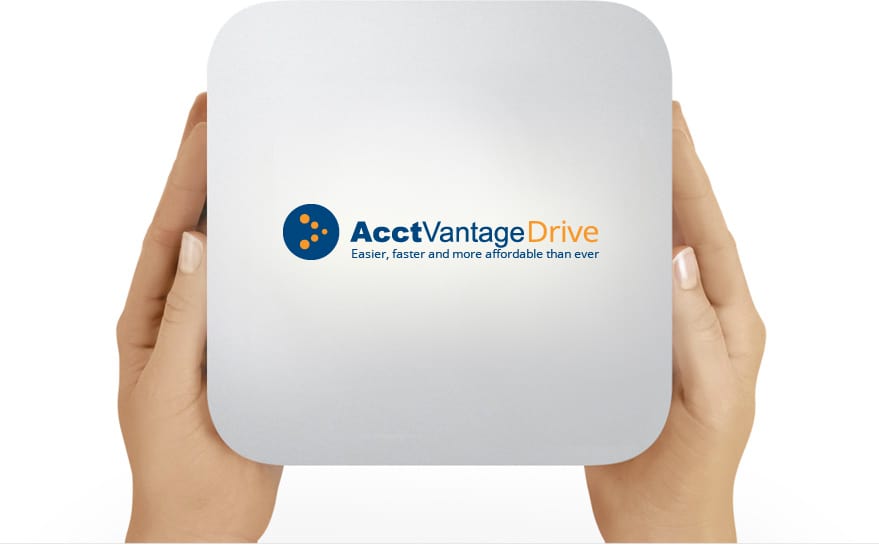 small business


ERP Accounting Software That's Ready In 2 Days


Our most friendly offering for small businesses switching to ERP.
The same rock star features you get with AcctVantage ERP,
but with these three game-changing benefits
Quick Start: Typically, a new AcctVantage user will go through a 60-90 day implementation process to customize all forms and functions to your business. For many growing
companies, 2-3 months is more time than they can afford. With AcctVantageDrive® you get the same robust software and support, but with a standard configuration which
allows your company to be up and running in just 2 days.
---
Standardized Configurations: Traditionally, AcctVantage has been sold as a highly customized ERP accounting solution to growing companies at varying degrees of ERP maturity.
With AcctVantageDrive®, we'll discuss your accounting and ERP needs, and then install on your hardware or ship you a shiny new computer that's preloaded AcctVantage ERP®. You'll enjoy the same access to in-person technical support, but in a more streamlined and "off the shelf" configuration.
---
Acctvantageous Savings: This standardized configuration of AcctVantageDrive® costs 30 – 50% less than a full version of AcctVantage ERP®, because Drive involves getting up and running right away with standardized accounting controls, forms and processes. Personalization of the system happens over time as you discover what works best for you through day-to-day use.

with the same features as AcctVantage ERP


Enterprise Software for Small Business
Our system was designed from the ground up to support inventory heavy operations in wholesale & distribution, light manufacturing and direct marketing.
Companies often come to us after having outgrown off-the-shelf software that doesn't offer enough integration with other needs to effectively run the business. They may have inventory kept in spreadsheets, accounting in QuickBooks®, and sales staff off doing who knows what. All of this data is separated to the point where the right hand has no idea what the left is up to.
We focus on clients that need to manage their inventory more effectively and back that up with purpose-built sales, customer relationship and back office accounting features fully integrated into a single system.
Beautiful Process Flow
With AcctVantage, taking a customer's order triggers a series of processes to ensure fulfillment, without your staff re-keying data or details being lost in the shuffle.
A sale can generate purchase orders to vendor(s), production orders to the shop, and a pick ticket for any number of warehouses; all in a single step. When everything is ready, just click a button to send via UPS, FedEx or USPS.
While AcctVantage ERP is fully configured for your specific business before it ships, AcctVantage DRIVE leaves the configuration up to you (with our award-winning customer support to help you along the way). Either way, you can rest assured that AcctVantage will improve your value chain efficiency.
Extraordinary Support
Word on the street is that there's nothing like AcctVantage when it comes to support. Maybe that's because we're an old fashioned company that takes the necessary time to get to know our customers and understand their needs, rather than just put out fires.
Our support staff actually answers the phone and more importantly, actually knows how the system is meant to work. No dial-by-number support or off-shore call centers with us. Just good, old fashioned in-person help when you need it.
Give us a call or join us for an online demonstration to see just how much AcctVantage can do for your business.
Powerful Sales & CRM
Our sales management tools are purpose built for account based customer relations. Your account managers will have everything they need to work with an account right at their fingertips. Sales summaries, contact lists, open quotes and orders, credit history, inventory availability, etc. are all right there so questions can be answered, deals made and orders taken.
Your sales staff will have instant access to what's on hand, what's been spoken for and what's expected to arrive so they can make – and keep – promises for delivery. They can even get this information and place orders on the road via our simple to use iPad app.
Inventory Intelligence
Does your business have a complex inventory system with multiple vendors, warehouses and/or product SKUs? No worries, our inventory management tools take these into account as well as your sales forecast, vendor lead times, historical sales, production schedules, etc. to help you understand where your inventory will be at any point in the future. We'll even let you know when it's time to push slow moving product.
Whether kitting, assembling or simply reselling, AcctVantage ERP gives you the power to have a clear, real-time picture of your inventory and easily plan for the future using powerful analytics.
Accounting Back Office
Your back office will love the integration between sales, purchasing, and general ledger accounting.
Cash planning, financial reports, credit management…when the operations are tightly bound to the accounting, everything is just that much smoother to manage. AcctVantage offers all the features of traditional accounting software plus an incredibly strong audit trail, multi-department and profit center functionality and no double entries or re-keying. We have focused on the usability and functionality of our accounting module, and its integration with operations, rather than the less-useful aspects like pretty charts and graphs.

See for yourself why we`ve been the #1 small business
ERP accounting software for 27 years and counting
Contact Us: